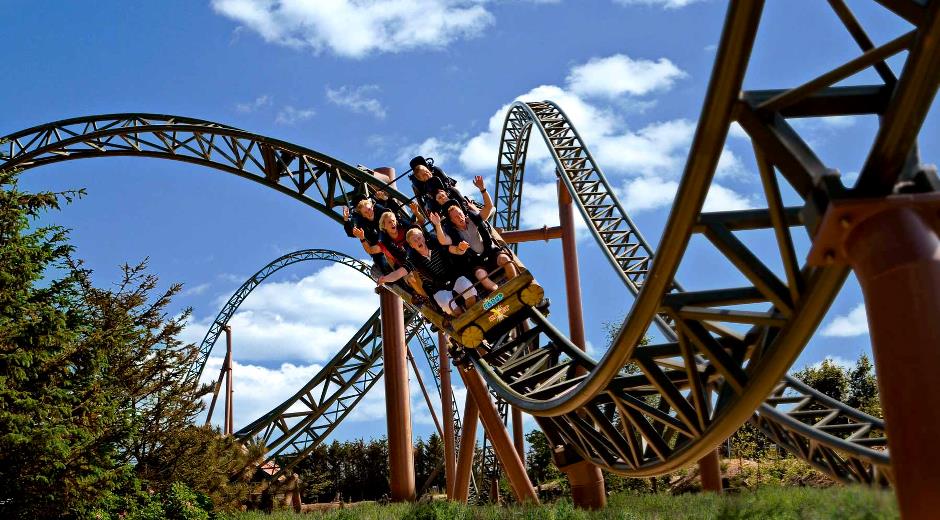 Fårup Sommerland
Fårup Sommerland
Close to the beach and yet far into the woods you find the amusement park Fårup Sommerland. Fårup was in 2014 named the best amusement park in Denmark – and is one of the biggest tourist attractions in Denmark with lots of wild, fun and crazy wet activities for the whole family. Everything from crazy roller coasters to children's Tivoli to Denmark's biggest and wettest Aqua Park!
World breaking news in Fårup's Aqua Park
There is really something to look forward to for all water rats, dare-devils and roller coaster-lovers! There is not just one, but two brand new water roller coasters in Fårup's Aqua Park in June 2015; "The Water Cannon" and "The Water Fall". The Water Canon will be the world's first outdoor water roller coaster with free fall and two loops. You start at the top, far from the ground, in a small cabin. For a moment the floor disappears beneath your feet and of you go in a free fall into a closed tube and continue at high speed through two loops and end in a great splash! The Water Fall is a 35 metres long water roller coaster, which only goes one way; down! There will be lots of tickles in your stomach when you try The Water Fall, because it is dauntingly steep.
When the water splashing is over and the hair is dry, you can trick your senses in the 4D-cinema, enjoy yourselves in the kids' Tivoli, tumble around on the endless number of trampolines and relax in the shade of the trees and do magic by the big barbecue-yourself-area, where seething hot barbecues are ready for you – free of charge. In our restaurants the whole family can find its favourite dishes – either at the delicious buffet restaurant or the many other dining facilities of the park.
Crazy roller coasters
The forest is filled with hurried roller coasters going at rushing speeds. In June 2013 the biggest news ever in Fårup Sommerland opened. The roller coaster "The Hurricane" drives – as the only one in the North – both above and UNDERNEATH the water! The Hurricane takes you to a 7-storey height, and with its 75 km/h you plunge under water and continue at terrifying speed close to trees and bushes – while your feet dangle freely in the air! You can also try the craziest acceleration of Denmark in the roller coaster "The Lightning", which is send of from 0 to 80 km/h in just 2 seconds! And then the ride goes up and down in crazy loops and neck breaking hairpin turns. Or how about a ride on "The Falcon", the fastest wooden roller coaster in Denmark!
Read more about Fårup Sommerland